ABOUT US
The North Carolina GlaxoSmithKline Foundation is committed to embracing the entire state through our various grant programs. We seek the creative spark that makes a true difference in people's lives by supporting innovative programs promoting the sciences, health and education. Traditional grants, which are over $25,000, are often multi-year commitments that have a broad impact in the state. The Ribbon of Hope program provides $50,000 grants to nonprofits to establish or expand local programs in the areas of science, health and education. Read more about us in our annual report 2022 Annual Report.
The Foundation also provides the following resources on continuity planning for nonprofits and foundations:
Continuity Planning for Nonprofits Booklet
Continuity Planning for Foundations Booklet
Board of Directors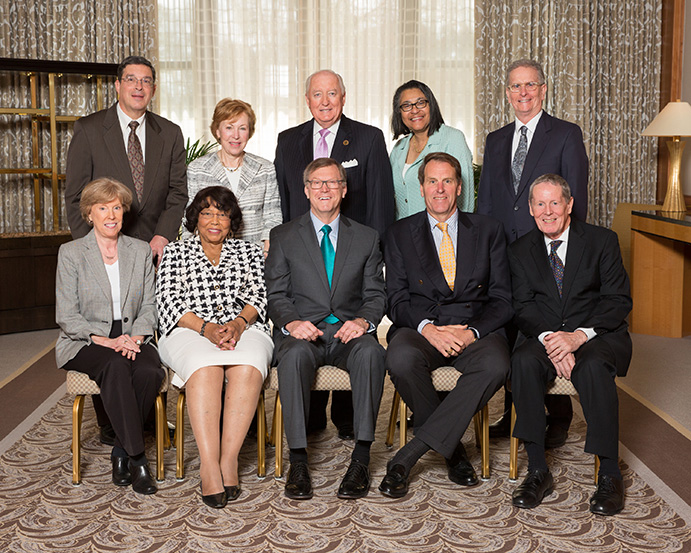 Foundation Board (back row, l-r) Mark S. Werner, Chairman Margaret B. Dardess, Past Chairman (late) Robert A. Ingram, Executive Director Marilyn Foote-Hudson, President George B. Abercrombie, (front row) Janice M. Whitaker, Shirley T. Frye, Secretary Paul A. Holcombe Jr., John F.A.V. Cecil, Ran Coble. (Thomas R. Haber, Anne B. Goodnight and Charles A. Sanders and Adrianna Carter not pictured.)
The North Carolina GlaxoSmithKline Foundation is governed by a Board of Directors comprised of community leaders and GSK senior executives.
The Board meets four times a year to consider and award grants. Completed applications must be received by: Jan. 1, April 1, July 1 or Oct. 1 (or the next business day if a weekend or holiday).
Applicants will be notified of the final decision.
Staff
Marilyn E. Foote-Hudson, Executive Director
Emily Moseley, Legal Counsel
Melinda Harris, Fiscal Analyst
Dawn Lloyd, Program Associate
Teressa Harris, Administrative Assistant
Congratulations Marilyn - 2019 We Work for Health Award!