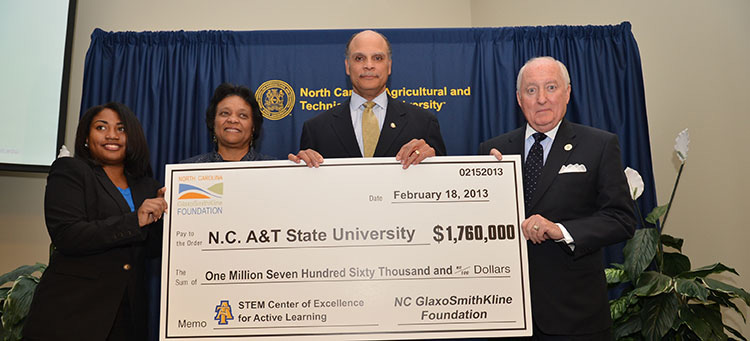 A five-year, $1.76 million grant from the North Carolina GlaxoSmithKline (N.C. GSK)  Foundation was announced today that will fund the creation of the Science Technology Engineering and Mathematics (STEM) Center of Excellence for Active Learning at North Carolina A&T State University. The STEM Center will inspire current, incoming and prospective N.C.  A&T students to pursue STEM studies and careers.
"We are thrilled to receive this grant from the N.C. GSK Foundation that will enable us to take our science education to the next level," said Dr. Goldie Byrd, dean of the College of Arts and Sciences.  "Our new STEM center will position N.C.  A&T to become one of the nation's top producers of high achieving graduates who pursue STEM careers."
The funds are being used to implement two new student-centered active learning models for more than 5,000 students annually.  By building a university based community of faculty     scholars in science education, the project allows for a myriad of course redesigns, group based education, and a new community of practice for student learning.
"The N.C. GSK Foundation has a long history of supporting science and education in North Carolina," said Marilyn Foote-Hudson, executive director for the N.C. GSK Foundation. "We are proud to provide this grant to N.C.  A&T State University that will not only increase the number of adults in STEM careers, but will also increase diversity in the STEM workforce."
The grant supports two strategic pipeline programs at the high school and pre-freshman levels to provide motivated students with a strong foundation for matriculating in STEM disciplines. 
• The summer enrichment program will immerse high school juniors in critical applications of science, computational science and mathematics, and prepare them for SATs and college. 
• The pre-matriculation bridge program will immerse incoming freshmen in chemistry and calculus pre-courses. Workshops will strengthen oral and written communication, critical thinking, time management, leadership and business etiquette and financial management.
In addition, the N.C. GSK Foundation scholarship fund will support and retain cohorts of high achieving STEM students.
About The North Carolina GlaxoSmithKline Foundation
The North Carolina GlaxoSmithKline Foundation is based in Research Triangle Park and supports programs that promote the sciences, health and education. Since its creation in 1986, the foundation has granted nearly $60 million to support North Carolina projects and programs that meet the educational needs of today's society and of future generations. Follow us at @ncgskfound.
About A&T
North Carolina Agricultural and Technical State University is a public, 1890 land-grant, doctoral/research university committed to exemplary teaching and learning, scholarly and creative research, and effective engagement and public service. Founded in 1891, the university offers degrees at the baccalaureate, master's and doctoral levels and has a commitment to excellence in a comprehensive range of academic disciplines. Our unique legacy and educational philosophy provide students with a broad range of experiences that foster transformation and leadership for a dynamic and global society. Follow us at Twitter: @ncatsuaggies | Facebook: ncatsuaggies | YouTube: ncatsuaggies.
Join the conversation on Twitter at #NCATSTEM.