The North Carolina GSK Foundation released its 2012 Annual Report on Thursday, March 27, 2013, highlighting grants awarded and programs supported over the past year. The NC GlaxoSmithKline Foundation's Chairman Bob Ingram and Executive Director Marilyn Foote-Hudson presented highlights of the report. The keynote speaker was Harold Lee Martin Sr., PhD, the 12th Chancellor of North Carolina Agricultural and Technical State University.
North Carolina A&T is the recent recipient of a five-year, $1.75-million grant from the NC GlaxoSmithKline Foundation to develop a STEM Center of Excellence for Active Learning at North Carolina A&T that helps students successfully pursue STEM studies and careers. NC A&T expects the significant level of work of this STEM Center of Excellence to serve as a model for transforming STEM education not only on its campus but at institutions across the state and nation.
(PHOTO ABOVE AT LEFT: NC GlaxoSmithKline Foundation welcomes Wingate University, which joins NCCU and other colleges, in the Women in Science Scholars Program. PHOTO AT RIGHT: In its commitment to education, NC GlaxoSmithKline Foundation supports hand-on science activities for kids.)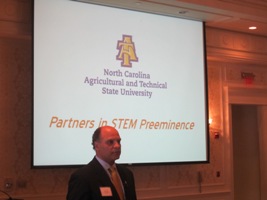 NC A&T State Univ Chancellor Harold Martin Sr talks about future ground-breaking STEM research made possible by Foundation grant.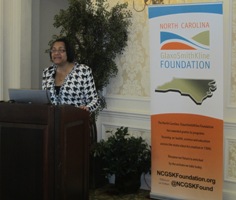 NC GlaxoSmithKline Foundation Executive Director Marilyn Foote-Hudson kicks off event that underscores Foundation's funding programs for NC residents.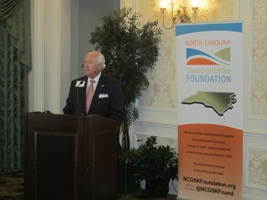 Board Chairman Bob Ingram shares his enthusiasm for the programs supported by the Foundation "which do so much good for so many citizens."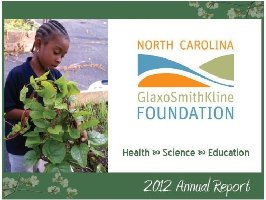 NC GlaxoSmithKline Foundation hosts event in Durham, NC – highlights its support of health, science and education, and releases its 2012 Annual Report.